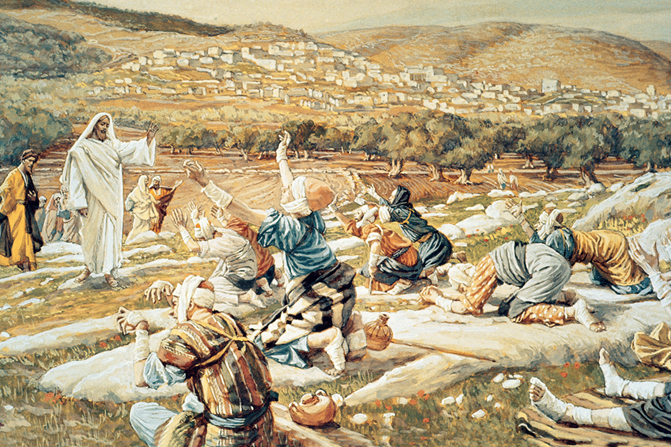 Are you grateful, what are you grateful for, and do you show it?
Are you grateful? Here's what I'm grateful for at Saint John the Baptist.
I'm grateful that I have a sink full of Tupperware from parishioners who either brought me food in the mornings or who sent me home with food after dinner at their homes. And if you knew my cooking ability, you would be grateful we ate at your place!
I'm grateful for the parishioner who sits in the front row over there at Sunday morning Masses and who nods and smiles every time I look his way.
I'm grateful for the Newburgh Rivertown Trail being so close! And because you all want an active, energetic priest, I'm sure you're glad I use it. I'm also grateful when you forgive me for not stopping to talk while I'm riding my bike or running. Sometimes I get too competitive.
I'm grateful for the slant in our church floor to increase your ability to see me behind this ambo. Us short guys need all the help we can get.
I'm grateful for the music here at St. John's. And for the decorations. And that Adoration is just through those double doors.
I'm grateful for Mother Teresa's and our Food Pantry, and not just because I have gotten a table from them, but because of all of the good work they do—you do—we do through Mother T's.
I'm grateful for our school. I love that school, especially the kind and dedicated teachers. And I'm grateful for the kids, our kids, your kids and grandkids that have welcomed me as one of their own family members.
I'm grateful for the affirmation I hear after Mass. It helps me know when whatever I did worked. And the absence of it lets me know when I need to improve.
I'm grateful for so many simple things here at SJB. I'm also grateful for things in my own life, more serious things, bigger things, holier things,
like the time I get to spend in prayer…
like the gift of being part of such a vibrant parish and equally vibrant universal Catholic Church…
and for the witness of the Saints. I love the saints…
and for our Lord and the Holy Spirit…
I'm grateful that so many people gathered around the family of Sophie Reinhart these past two weeks,
And I'm grateful for the love and devotion to God and to one another that you show every single day.
But are you grateful?! Of course. And what are you grateful for? Really? Little things? Big things? We cannot stop at simply "being grateful". We need to name it. To point it out. To look up at our God and say, "This… is what I am so grateful for, Lord." We need to return to the Lord who gave us all we have and fall at the feet of Jesus and thank him. For our faith, the gratitude we show our God '
saves us'
.
So how do we do it? How do we go from being grateful to knowing what we are grateful for to actually showing it?
My younger sister texted me last week and said, "God does all of this awesome stuff for us and makes us have the best days, what do we do to pay God back for everything he does?" I don't think she actually wanted an answer. It sounded more like a statement of awe. But she should have thought before she texted that. When your older brother is a priest, you don't just get a two-line text back when you send a comment or question—especially not when that message is about God. You get a homily.
What do we do to pay God back for all of our gifts?
We don't stop at feeling grateful.
We go to Church where we praise him by song and by prayer, where we sacrifice our time and energy to be there instead of elsewhere and to focus even if we think something is boring; and we go every Sunday and we take our whole family, even our teenagers who buck at the thought; and then we ask them about what God said to them at Mass on the ride home.
We go on pilgrimages where we have little sleep and spend a lot of money so we can learn more about what He has done in the lives of others, or we simply get to Mass when we're on vacation and then it can be called a 'pilgrimage'.
We show charity to other people in large and in small ways because 'whatever we do for others, we do for him'.
We bring in soap and towels and socks and gift cards until those boxes in the Narthex were too heavy to move; and we sing in the choir or in the congregation whether or not we—or anyone else—likes our voice; because what parent doesn't like to hear the voice of his child?
We lay down our lives for our spouses and children so that they might have a fuller life, or we might just 'give it all up' by becoming a priest or religious sister or brother; we try our honest best to live chastely every day.
We take 4 min to read the Bible in the mornings – that his Word might be even more alive in us; and we actually get on our knees before we crawl in bed at night.
We give up things during Lent to unite ourselves to his sacrifice, and we give away things at Christmas to celebrate his birthday.
We go to Mass on Thanksgiving Day, even when we are tired, even when we are busy, and even when we have family in from out of town because we want to thank God personally on this holiday.
We pray before meals, especially when it's a big feast, and we still pray, and even when we're at Chick-fil-A or Azzip or in our company break room or in the school cafeteria, regardless of whether it'll draw attention. Who cares? –God does.
We do all of the things we do as Catholics—or are supposed to do—to show our gratitude, and because of what he did for us. Our praise, our sacrifice, our lives simply become what he has given to us, which is no less than it all.
Are you grateful? What are you grateful for? And do you show it?
What's the point of Thanksgiving if our thanks are not given? And given to the One who deserves them the most.